Solar Panel Installation Services In Irving, TX | Serving Dallas and Fort Worth Areas
Freedom Solar
3070 Story Road W
Irving, TX 75038
Call for a FREE Consultation!
(972) 441-8230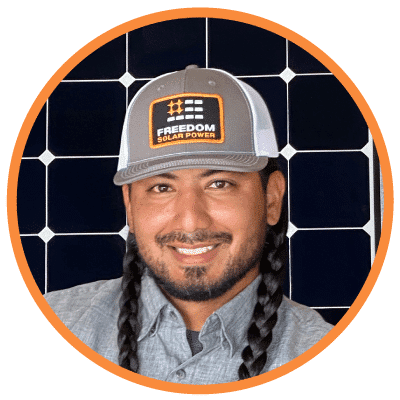 Hey! I'm Manny. I'll get you a custom solar estimate in seconds!
GET YOUR FREE & INSTANT ESTIMATE FOR GOING SOLAR!
Start 2022 with Solar + Backup Power Savings
Ring in the new year with alternative energy for your home. 2022 is expected to be the year of inflation, and the best way to protect yourself is by locking in your electric rate with solar and keeping the lights on with battery backup.
To keep your family safe and warm all winter long – and to help keep the electric grid stable and reliable – we'll cover the cost of 3 months of electric bills if you go solar in January. Plus, get an additional $500 rebate when you bundle a Tesla Powerwall to keep the power on year-round.
This special offer is only available until January 31st, so lock in your price on solar and inflation-proof your electricity bill!
Offer Expires – 1/31/2022*
Your Dallas – Fort Worth Solar Installer
Dallas solar power is a growing trend as homeowners and businesses take advantage of falling solar panel costs. Start making your own electricity to save on your electric bill. Whether you're looking for residential solar panels or are interested in commercial solar panels for your business, Freedom Solar is proud to use the best solar technology available to create solutions that fit our clients' needs.
Freedom Solar was established in 2007, and we have since grown into the number one solar contractor in Texas. From our Las Colinas office, we provide solar panel installation services throughout the Dallas-Fort Worth metroplex for residential and commercial customers. Some of our clients include Casa Emanu-El and CentrePort Storage.
We take great pride in designing and installing the highest quality solar systems available, and our team works to ensure every client receives the maximum possible return on their investment. From consultations to advanced monitoring, we offer a turn-key solar energy solution.
What Our Customers Are Saying
We looked at several companies before selecting Freedom Solar. They were very professional and knowledgeable. The installation crew arrived on time and did a great job. They explained the whole process. It is great to see the meter running backwards!

Eric W., Fort Worth, Texas
Freedom Solar installed my system on time and stayed with the project all the way through the city inspections. They installed a great monitoring system and taught us how to use it. The job was complete and professional. I would highly recommend them if you are considering solar.

E.F., Arlington, Texas
I had my system installed in March 2018 and could not be happier with the entire process. My first electricity bill came about a week ago and it was NEGATIVE $5. I highly recommend going with Freedom Solar Power. They have the absolute best panels and amazing service.

Paul M., Dallas, Texas
Our Commercial Solar Clients in Dallas Why Solar Panels for the DFW Area?
Solar panels are a big investment for your property, whether you're are looking for solar panels for your home or a solar power system for your business. However, they provide an opportunity to save immensely on electricity bills, improve the value of the home or commercial building, and can help protect our natural resources. At Freedom Solar, we provide full services for solar solutions. We can help you design the solar power system that will work best with your property, and our expert installers will ensure you will have the best solar panels you can get along with our 25-year guarantee warranty. Our Irving location in the Las Colinas neighborhood currently serves Dallas and Fort Worth as well as surrounding areas throughout North Texas, such as McKinney, Carrollton, Valley Ranch, Flower Mound, Grand Prairie, and Denton.
SunPower Master Dealer
SunPower Corporation selected Freedom Solar as the first and only SunPower® Master Dealer in Texas, giving Dallas homeowners and businesses access to SunPower's world-record-setting technology paired with our reputation for craftsmanship and personal attention to detail. Freedom Solar is honored to have been recognized by SunPower as the 2019 "National Top Producer of the Year" for consistently putting customers first and installing more residential solar than any other company in the central U.S.
Start Saving With Solar Panels In Dallas, Texas
If you are looking for solar panels in the DFW area, we can help! We look forward to working with you to see if solar is the right fit for you. Contact our team to see how much you can save by getting solar panels in Dallas.
Solar Energy Services We Provide In Dallas – Fort Worth, Texas
As a leading solar installer, we're proud to serve all of North Texas. We offer installation services for both residential and commercial. We use SunPower premium solar technology on every installation and handle everything from the consultation to obtaining the permits needed for your HOA. Freedom Solar also offers solar panel repairs and maintenance – regardless of who installed it, we will repair and upgrade any system to make sure that you're getting the maximum energy production and efficiency.
Home Battery Backup Systems
Backup power is a system that connects to electricity sources, typically solar panels and the electric grid, to store excess power and return it to your home when you need it, generally because of a power outage during an emergency. In most cases, your backup power supply will come from a generator or a battery. Today's solar batteries are also intelligent energy management systems that can optimize your home's energy usage to take advantage of utility time-of-use plans or to ensure that your electric car is charged with solar power.
Backup Power Systems We Offer:
Commercial Solar Energy Services
Freedom Solar is more than a commercial solar panel installer. We offer full end-to-end solar solutions and complete project management from start to finish. Our services include free site analysis, engineering, and design services, financing, rebate application, installation, permitting, inspections, monitoring, and ongoing service and maintenance.
SunPower by Freedom Solar services homeowners and businesses across the Dallas-Fort Worth metropolitan area, including Plano, Frisco, Coppell, Allen, and Flower Mound.
OTHER LOCATIONS:
Austin | San Antonio | Houston | DFW | Denver | Colorado Springs | Tampa
*Terms and Conditions: Offer valid to homeowners purchasing a new SunPower Equinox solar power system with a minimum system size of 2 kilowatts (kW DC). Freedom Solar will pay a post-installation rebate via the Advocator app equal to three months of electricity bills, based on the average monthly electric cost provided by the homeowner that is modeled in the Freedom Solar proposal. Freedom Solar will add an additional $500 rebate if the customer also purchases a home battery such as the Tesla Powerwall from Freedom Solar on the same contract. Contract must be signed between January 1, 2021 and January 31, 2021. Customer must register in the app within 6 months following the installation date and may redeem the offer through the Advocator app via an electronic transfer to your bank account or a Virtual Prepaid Visa Card.