Full-Service Solar Panel Installation Austin, TX
Freedom Solar Corporate Headquarters
4801 Freidrich Lane Suite 100
Austin, TX 78744
Call for a FREE Consultation!
(512) 759-8313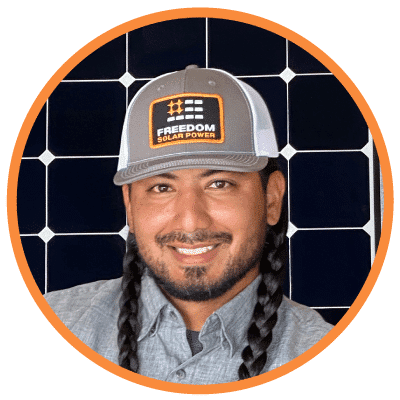 Hey! I'm Manny. I'll get you a custom solar estimate in seconds!
GET YOUR FREE & INSTANT ESTIMATE FOR GOING SOLAR!
Start 2022 with Solar + Backup Power Savings
Ring in the new year with alternative energy for your home. 2022 is expected to be the year of inflation, and the best way to protect yourself is by locking in your electric rate with solar and keeping the lights on with battery backup.
To keep your family safe and warm all winter long – and to help keep the electric grid stable and reliable – we'll cover the cost of 3 months of electric bills if you go solar in January. Plus, get an additional $500 rebate when you bundle a Tesla Powerwall to keep the power on year-round.
This special offer is only available until January 31st, so lock in your price on solar and inflation-proof your electricity bill!
Offer Expires – 1/31/2022*
Check out the Great Reviews for Freedom Solar Austin
Your Solar Installer In Austin
With over 300 days of sunshine a year and progressive renewable energy goals, Austin is a leader in the Texas for renewable energy. With ample incentives for switching to solar energy. Austin solar rebates can be combined with other local incentives and federal tax credits to make the switch to solar power systems accessible. These financial incentives, combined with increasing electric utility rates, make solar energy an investment decision that will continue to provide cost savings for years to come.
Freedom Solar was established in Austin in 2007, and we have since grown into the number one solar contractor in Texas. We install solar panels in Austin for residential and commercial customers, including Whole Foods, Shake Shack, The University of Texas, Huston-Tillotson University, Strictly Pediatrics, Austin Subaru, and Ben White Storage. We are your go-to source for all of your needs for residential and commercial solar panels in Austin! Learn more about our story.
We take great pride in designing and installing the highest quality solar solutions using the best solar technology available, and we work to ensure every client receives the maximum possible return on their investment. From consultations to advanced monitoring, we offer a turn-key solar energy solution.
What Our Customers Are Saying
I was very happy with Freedom. An ideal contractor. Well informed, perfect communication, great installation process, superb product, total warranty on everything (not just the modules). I'd recommend them to anyone looking for a solid residential solar installer in Austin.

Cyrus T., Austin, Texas
Great experience with Freedom Solar. Exactly what I'd hoped for based on reading the other reviews. They were prompt, professional and trustworthy. Our new system is working great and generating as expected.

Sara E., Austin, Texas
The Freedom Solar team has not missed a step in communication and quality of work. A very turnkey operation from start to finish including the financing, rebates, and tax credits. Perfect execution!

Joseph W., Austin, Texas
Our Austin Commercial Solar Clients SunPower Master Dealer
SunPower Corporation selected Freedom Solar as the first and only SunPower® Master Dealer in Texas, giving Austin homeowners and businesses access to SunPower's world-record-setting technology paired with our reputation for craftsmanship and personal attention to detail. Freedom Solar is honored to have been recognized by SunPower as the 2019 "National Top Producer of the Year" for consistently putting customers first and installing more residential solar than any other company in the central U.S.
Austin Solar Incentives
We are a solar installer based in Austin, and we are confident we can provide you with the best solar panel installation products and services in the Austin area and beyond. Our local team has been providing commercial and residential solar panels and services to Central Texas customers such as Westlake Medical Center and Save the World Brewery since 2007. We will also help you and take advantage of all federal and local incentives, including the Austin Energy solar rebate.
Incentives are limited – reserve your rebate today!
Home Solar Energy Services We Provide In Austin, TX
As a leading Texas solar installer, who calls Austin home, we're proud to serve the Lonestar state. We offer solar installation services for both residential and commercial. Freedom Solar uses SunPower premium solar technology on every installation and handle everything from the consultation to obtaining the permits needed for your HOA. Freedom Solar also offers solar panel repairs and maintenance – regardless of who installed it, we will repair and upgrade any system to make sure that you're getting the maximum energy production and efficiency.
Home Battery Backup Systems
Backup power is a system that connects to electricity sources, typically solar panels and the electric grid, to store excess power and return it to your home when you need it, generally because of a power outage during an emergency. In most cases, your backup power supply will come from a generator or a battery. Today's solar batteries are also intelligent energy management systems that can optimize your home's energy usage to take advantage of utility time-of-use plans or to ensure that your electric car is charged with solar power.
Backup Power Systems We Offer:
Commercial Solar Energy Services
Freedom Solar is more than a commercial solar panel installer. We offer full end-to-end solar solutions and complete project management from start to finish. Our services include free site analysis, engineering, and design services, financing, rebate application, installation, permitting, inspections, monitoring, and ongoing service and maintenance.
We offer Austin solar power to homeowners and businesses in Pflugerville, Round Rock, Cedar Park, Leander, Buda, Manor, Elgin, and Southpark Meadows. Contact our team to see how much you can save.
OTHER LOCATIONS:
Austin | San Antonio | Houston | DFW | Denver | Colorado Springs | Tampa
*Terms and Conditions: Offer valid to homeowners purchasing a new SunPower Equinox solar power system with a minimum system size of 2 kilowatts (kW DC). Freedom Solar will pay a post-installation rebate via the Advocator app equal to three months of electricity bills, based on the average monthly electric cost provided by the homeowner that is modeled in the Freedom Solar proposal. Freedom Solar will add an additional $500 rebate if the customer also purchases a home battery such as the Tesla Powerwall from Freedom Solar on the same contract. Contract must be signed between January 1, 2021 and January 31, 2021. Customer must register in the app within 6 months following the installation date and may redeem the offer through the Advocator app via an electronic transfer to your bank account or a Virtual Prepaid Visa Card.