Solar Panel Installation Services In Houston, TX
Freedom Solar
1234 North Post Oak Rd #170
Houston, TX 77055
Call for a FREE Consultation!
(713) 332-9716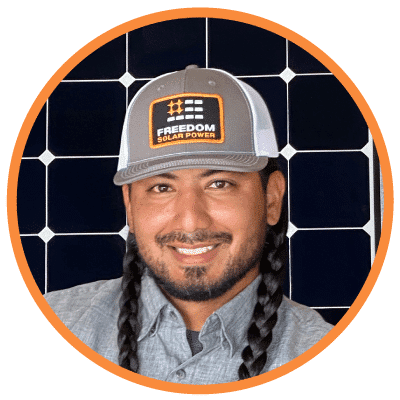 Hey! I'm Manny. I'll get you a custom solar estimate in seconds!
GET YOUR FREE & INSTANT ESTIMATE FOR GOING SOLAR!
Spread the joy and savings of solar by submitting referrals during the month of November!
You can get up to $1,000 in referral bonuses that you can choose to keep or share with the referrals you submit. This season, give thanks and get thanks by sharing the gift of solar to your friends, family, coworkers and neighbors. The best part is that it's so easy!
All you need to do is:
1. Login online or on the Advocator app
2. Tap +Add Referrals
3. Choose the product 'Give Thanks, Get Thanks' (you'll get $500 and so will your referral) or choose 'Thank You – Times Two' (you'll get a $1,000 referral bonus)
4. Submit your referrals contact information! Don't worry, we'll take it from there! Share Solar and and give them gift that keeps on giving!
Offer Expires – 11/30/2021*
Your Houston Solar Installer
More solar panels are being installed in Houston than ever before, making solar power a thriving industry in the Energy Capital of the World. Take advantage of falling solar panel costs and start making your own electricity to save on your electric bill. Whether you're looking for residential solar panels or are interested in commercial solar in Houston, Freedom Solar is proud to use the best solar technology available to create solutions to fit our clients' needs.
Freedom Solar was established in 2007, and we have since grown into the number one solar contractor in Texas and one of the top solar installers in Houston. Our Houston-based team provides solar panel installation for both residential and commercial customers in H-Town, including ABC Home and Commercial, Evelyn's Park, and the Houston Museum of Natural Science. Let's make Houston Solar!
We take great pride in designing and installing the highest quality solar systems available, and work to ensure every client receives the maximum possible return on their investment. From consultations to advanced monitoring, we offer a turn-key solar energy solution. We provide the best solar panels in Houston, Texas and the surrounding areas, and we are confident our solar systems will satisfy your performance and quality needs. Learn more about our story.
What Our Customers Are Saying
As a residential and commercial customer of Freedom Solar, I can confirm their strong reputation. They are thriving in Houston because of their integrity and solution-oriented approach.

Paul Hobby, Founding Partner of Genesis Park LP and CEO of Texas Monthly magazine in Houston
Freedom Solar is a great company that offers great pricing, financing, and excellent customer service. Shannon Munden is our sales representative and has been exceptional every step of the process. We suggest that everyone go solar if it makes sense for you and do yourself a favor and contact FREEDOM SOLAR for your solar panel system.

Trent M., Pearland
I have never given 5 stars in any rating I've done. 5 stars means that you cannot improve… But, these guys earned it. Robert answered every question I had. Reagan's site inspection was very thorough – he probably sold me on Freedom Solar. You could tell that Will and the crew believed in what they were doing and enjoyed their job. We are very pleased!

Round Top Homeowner
Our Houston Commercial Solar Clients


SunPower Master Dealer
SunPower Corporation selected Freedom Solar as the first and only SunPower® Master Dealer in Texas, giving Houston homeowners and businesses access to SunPower's world-record setting technology paired with our reputation for craftsmanship and personal attention to detail. Freedom Solar is honored to have been recognized by SunPower as the 2019 "National Top Producer of the Year" for consistently putting customers first and installing more residential solar than any other company in the central U.S.
Solar Panels And Tesla Powerwall
Home battery backup is an ideal solution for power outages caused by hurricanes, and Freedom Solar Power is the largest distributor of Tesla Powerwall batteries in Texas. We have installed SunPower solar power systems combined with the Tesla Powerwall 2 battery for Houston customers including Pat Wood, former chairman of the Federal Energy Regulatory Commission and the Public Utility Commission of Texas and current member of the National Petroleum Council. "Freedom Solar's arrival to the world energy capital with its cost-competitive, premium products sends a clear message that the time has arrived for solar power across Texas," he says. "Adding the capability to store solar power with a battery backup during outages makes it the ideal choice for literally everyone, as I found out during last year's Hurricane Harvey." Everyone considering solar panels for homes in Houston can take full advantage of these benefits by installing a solar power system complete with battery backup.
Start Saving With Solar Panels
We look forward to working with you to see if solar is the right fit for you and your family. Start making your own electricity to save on your electric bill. If you are looking for solar installers in Houston, we can help. If you have more questions about commercial or residential solar panels in Houston and surrounding areas, our experts will be happy to answer them all. Contact us today and see how much you can save by going solar in Houston!
Solar Energy Services We Provide in Houston, Texas
As a leading solar installer, we're proud to serve the Lonestar State and the Energy Capital of the World. We offer installation services for both residential and commercial properties in Houston. We use SunPower premium solar technology on every installation and handle everything from the consultation to obtaining the permits needed for your HOA. Freedom Solar also offers solar panel repairs and maintenance – regardless of who installed it, we will repair and upgrade any system to make sure that you're getting the maximum energy production and efficiency.
Home Battery Backup Systems
Backup power is a system that connects to electricity sources, typically solar panels and the electric grid, to store excess power and return it to your home when you need it, generally because of a power outage during an emergency. In most cases, your backup power supply will come from a generator or a battery. Today's solar batteries are also intelligent energy management systems that can optimize your home's energy usage to take advantage of utility time-of-use plans or to ensure that your electric car is charged with solar power.
Backup Power Systems We Offer:
Commercial Solar Energy Services
Freedom Solar is more than a commercial solar panel installer. We offer full end-to-end solar solutions and complete project management from start to finish. Our services include free site analysis, engineering, and design services, financing, rebate application, installation, permitting, inspections, monitoring, and ongoing service and maintenance.
* Terms and Conditions: Offer valid to anyone who submits a residential referral via the Advocator app ("App") using company code 2180 from November 1, 2021 to November 30, 2021. The referrer ("Advocate") must select the appropriate product in the App. Selecting the Give Thanks, Get Thanks product will reward the Advocate and their referral ("Referral") $500 each when the Referral goes solar with Freedom Solar. Selecting the Thank You – Times Two! Double Bonus product will result in a $1,000 payment to the Advocate when their Referral goes solar with Freedom Solar. Payments to the Advocate will be made within 21 business days of the Referral's installation. Payments to the Referral under the Give Thanks Get Thanks promotion will be made via the App within 21 business days after their installation date pending account registration. Advocates and Referrals may redeem the offer through the App via an electronic transfer to their bank account or a Virtual Prepaid Visa Card.