Full-Service Solar Panel Installation In Colorado Springs, Co
Freedom Solar
5135 Centennial Blvd
Colorado Springs, CO 80919
Call for a FREE Consultation!
(719) 359-9603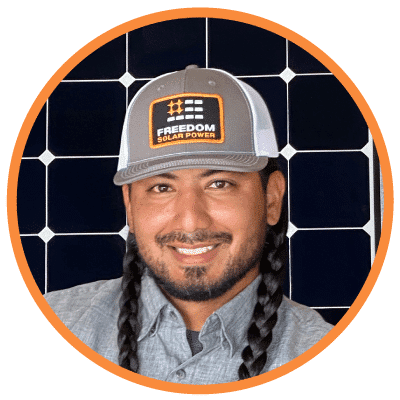 Hey! I'm Manny. I'll get you a custom solar estimate in seconds!
GET YOUR FREE & INSTANT ESTIMATE FOR GOING SOLAR!
Trade In, Trade Up!
Trade in your electricity bill and trade up to the world's best solar!
We've done the math so that you can get the highest quality panels in the world for no more than you're paying now! That's right for a limited time we're guaranteeing a bill swap when you go solar – so trade in your electricity bill and trade up to SunPower!
Here's how it works! We will pay you an installation rebate equal to the difference between your solar loan payment and the portion of your bill offset by solar over 5 years! We'll turn your electricity bill into a home improvement that pays you back – a financial investment that makes sense for your wallet and for the planet. 
Don't Miss the Bus on this deal! 
Trade In Your Electric Bill and Trade Up To SunPower Today!
Offer Expires – 9/30/2021
Want to know more?
Begin a FREE Consultation.
Send us your info.
We'll contact you to schedule an appointment.
An energy consultant will meet with you at your home or place of business or virtually.
You will get a custom proposal with system size, design, costs, financing, and savings.
We respect your privacy. Your info will only be used to contact you and to qualify your roof for solar.
By clicking "Contact Me" you authorize Freedom Solar to call you and send you pre-recorded messages and text messages at the number you entered above, using an autodialer, with offers about their products or services, even if your phone number is a mobile phone or on any national or state "Do Not Call" list. Message and data rates may apply. Your consent here is not based on a condition of purchase.
Your Solar Installer In The Olympic City
With 300 days of sunshine a year and being a champion city for progressive renewable energy goals, Colorado Springs has ample incentives for switching to solar energy. Utility solar rebates can be combined with other local incentives and federal tax credits to make the switch to solar power systems accessible. These financial incentives, combined with increasing electric utility rates, make solar energy an investment decision that will continue to provide cost savings for years to come.
Freedom Solar was established in 2007, and we are the only SunPower Master Dealer in Colorado. We install solar panels in Colorado Springs and Pueblo for residential and commercial customers and take pride in helping Coloradans gain energy independence. We are your go-to source for all of your needs for residential and commercial solar panels in the Front Range! Learn more about our story.
We take great pride in designing and installing the highest quality solar solutions and consider ourselves a solar champion for the Olympic city. We use the best solar technology available, and we work to ensure every client receives the maximum possible return on their investment. From consultations to advanced monitoring, we offer a turn-key solar energy solution.
What Our Customers Are Saying
I've been considering solar for a few years now. After talking with a few friends, even some in the industry, I've learned that I really want high-quality panels like SunPower and that's initially lead me to Freedom Solar. Since that very first call, their staff has been professional, honest, knowledgeable and they actually seem to believe in what they're doing, in alternative energy, and that's really important to me. If you're looking for friendly, no-nonsense service, give them a call.

Abe C., Colorado Springs
Very professional and courteous staff. Very responsive to my and inspectors requests. Up and running quickly. On-site crews and office staff were great in explaining various aspects of the project and approval process. Good follow-up as well.

Peter G., Colorado Springs
Very friendly and professional. Did what they said and when they said it would get done. I did my research and SunPower along with the installers Freedom Solar is the way to go. Thanks to the whole crew for a job well done. A++.

Walter K., Pueblo West
Our Commercial Solar Clients Colorado Springs Solar Incentives
We are a solar installer in the Olympic City, and we are confident we can be a champion for you and provide you with the best solar panel installation products and services in the Colorado Springs area and beyond. Our local team provides commercial and residential solar panels and services to southern Colorado customers. We will also help you and take advantage of all federal and local incentives, including the CSU solar rebate.
Incentives are limited – reserve your rebate today!
SunPower Master Dealer
SunPower Corporation selected Freedom Solar as their only SunPower® Master Dealer in Colorado, giving Springs homeowners and businesses access to SunPower's world-record-setting technology paired with our reputation for craftsmanship and personal attention to detail. Freedom Solar is honored to have been recognized by SunPower as the 2019 "National Top Producer of the Year" for consistently putting customers first and installing more residential solar than any other company in the central U.S.
Home Solar Energy Services We Provide In Colorado Springs, Colorado
As a leading solar installer, we're ready to be the solar champion of the Olympic City. We offer installation services for both residential and commercial. We use SunPower premium solar technology on every installation and handle everything from the consultation to obtaining the permits needed for your HOA. Freedom Solar also offers solar panel repairs and maintenance – regardless of who installed it, we will repair and upgrade any system to make sure that you're getting the maximum energy production and efficiency.
Home Battery Backup Systems
Backup power is a system that connects to electricity sources, typically solar panels and the electric grid, to store excess power and return it to your home when you need it, generally because of a power outage during an emergency. In most cases, your backup power supply will come from a generator or a battery. Today's solar batteries are also intelligent energy management systems that can optimize your home's energy usage to take advantage of utility time-of-use plans or to ensure that your electric car is charged with solar power.
Backup Power Systems We Offer:
Commercial Solar Energy Services
Freedom Solar is more than a commercial solar panel installer. We offer full end-to-end solar solutions and complete project management from start to finish. Our services include free site analysis, engineering, and design services, financing, rebate application, installation, permitting, inspections, monitoring, and ongoing service and maintenance.
* Terms and Conditions: Offer valid to homeowners purchasing a new SunPower Equinox system. Freedom Solar will pay a post-installation rebate equal to the difference between your current annual electric bill and your year-one solar loan payments for a period of 5 years, up to a $1,500 total payment. This will be calculated by subtracting the portion of your current annual electric bill that will be offset by solar from the total amount of your first 12 months of solar loan payments, and then multiplying the sum by five. With utility price inflation, the amount of the loan payments after year five are expected to be equal to or lower than the homeowner's electric bill. Contract must be signed between September 1st, 2021, and September 30th, 2021. Customer must register with Advocator within 6 months following the installation date and may redeem the offer through the Advocator app via an electronic transfer to your bank account or a Virtual Prepaid Visa Card.