Solar Panel Installations in Denver, Co
Freedom Solar Power
2300 E 76th Ave Ste D400
Denver, CO 80229
Call for a FREE Consultation!
(303) 222-4203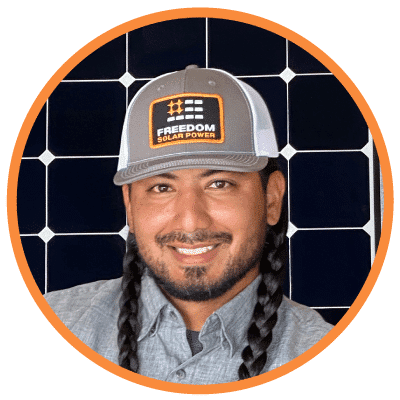 Hey! I'm Manny. I'll get you a custom solar estimate in seconds!
Get Your Free & Instant Estimate for Going Solar!
Pay $0 until 2024
When you go solar with us this month, you won't have to pay anything until next year.
Find a plan today that best fits your lifestyle and financial goals. There's never been a better time to go solar!
Want to know more?
Begin a FREE Consultation.
Send us your info.
We'll contact you to schedule an appointment.
An energy consultant will meet with you at your home, place of business or virtually.
You will get a custom proposal with system size, design, costs, financing, and savings.
We respect your privacy. Your info will only be used to contact you and to qualify your roof for solar.
By clicking "Contact Me" you authorize Freedom Solar to call you and send you pre-recorded messages and text messages at the number you entered above, using an autodialer, with offers about their products or services, even if your phone number is a mobile phone or on any national or state "Do Not Call" list. Message and data rates may apply. Your consent here is not based on a condition of purchase.
Freedom Solar Power Service Area in Denver, CO
We serve all neighborhoods in the greater Denver area from our office in the Welby, including:
Central
Baker
Capitol Hill
Central Business District
Cheesman Park
Cherry Creek
City Park
City Park West
Civic Center
Congress Park
Country Club
Lincoln Park
North Capitol Hill
Speer
Union Station
East
Belcaro
Cory-Merrill
East Colfax
Hale
Hilltop
Indian Creek
Lowry
Montclair
Park Hill
Virginia Village
Washington Virginia Vale
Windsor
North
Clayton
Cole
Elyria-Swansea
Five Points
Globeville
North Park Hill
Skyland
South Park Hill
Whittier
Northeast
Central Park
Denver International Airport
Gateway/Green Valley Ranch
Montbello
Northeast Park Hill
Northwest
Auraria
Berkeley
Chaffee Park
Highland
Jefferson Park
Regis
Sloan Lake
Sunnyside
West Highland
South
College View/South Platte
Overland
Platt Park
Rosedale
University
University Hills
University Park
Washington Park
Washington Park West
Wellshire
We also serve homeowners looking for solar panel installation services in the Southeast, Southwest, and West districts.
Denver FAQs
Check out the Great Reviews for Freedom Solar Denver
Your Solar Installer In Central & Northern Colorado
With over 300 days of sunshine a year and progressive renewable energy goals, the Mile-High City has ample incentives for switching to solar energy. Utility solar rebates can be combined with other local incentives and federal tax credits to make the switch to solar power systems accessible. These financial incentives, combined with increasing electric utility rates, make solar energy an investment decision that will continue to provide cost savings for years to come.
Freedom Solar was established in 2007, and we are the only SunPower Master Dealer in Colorado. We install solar panels in Colorado Springs and Pueblo for residential and commercial customers. We are your go-to source for all of your needs for residential and commercial solar panels in the Front Range! Learn more about our story.
We take great pride in designing and installing the highest quality solar solutions using the best solar technology available, and we work to ensure every client receives the maximum possible return on their investment. From consultations to advanced monitoring, we offer a turn-key solar energy solution.
What Our Customers Are Saying
James Garbo and Benjamin were awesome. Sunpower has proven it truly cares about its customers and James went above and beyond to help us. They were timely and efficient. Even the gentleman who came out to do the site assessment was great, personable and professional. I looked at 4 solar companies when I was shopping for solar and Freedom was the best all around.

Mike B., Aurora
I wanted to thank Freedom Solar for the work they have done installing our SunPower solar panels. They handled all the paperwork. Their staff made sure to wear masks whenever the work required interaction with us. They consulted with us when they ran into surprises during the install. The array is up and running now. Even now in March on a sunny day, we are throwing off 30ish kWh a day to the grid!

Gary P., Golden
Our Commercial Solar Clients SunPower Master Dealer
SunPower Corporation selected Freedom Solar as their only SunPower® Master Dealer in Colorado, giving Denver area and Fort Collins homeowners and businesses access to SunPower's world-record-setting technology paired with our reputation for craftsmanship and personal attention to detail. Freedom Solar is honored to have been recognized by SunPower as the "National Top Producer of the Year" in 2019, 2020, and 2021 for consistently putting customers first and completing more home solar installations than any other company in the central U.S.
Denver Solar Incentives
We are a solar installer located in Denver, proudly serving the Mile-High City and all of Central and Northern Colorado up to Fort Collins. Our local team is an expert in the financial incentives for solar power that are available to central and northern Colorado customers. We will help you take advantage of all federal and local incentives, including the Fort Collins Utilities solar rebate, on commercial and residential solar panels and services to provide you with a positive financial return.
Incentives are limited – reserve your rebate today!
Solar Energy Services We Provide In Denver, Colorado
As a leading solar installer who is rated the #1 Best Solar Installer in Colorado by LeafScore, we're ready to be the solar champion of the Mile-High City. We offer installation services for both residential and commercial. We use SunPower premium solar technology on every installation and handle everything from the consultation to obtaining the permits needed for your HOA. Freedom Solar also offers solar panel repairs and maintenance – regardless of who installed it, we will repair and upgrade any system to make sure that you're getting the maximum energy production and efficiency.
Home Battery Backup Systems
Backup power is a system that connects to electricity sources, typically solar panels and the electric grid, to store excess power and return it to your home when you need it, generally because of a power outage during an emergency. In most cases, your backup power supply will come from a generator or a battery. Today's solar batteries are also intelligent energy management systems that can optimize your home's energy usage to take advantage of utility time-of-use plans or to ensure that your electric car is charged with solar power.
Backup Power Systems We Offer:
Solar battery backup power systems including Tesla Powerwall
Home generators including Kohler Generator
Commercial Solar Energy Services
Freedom Solar is more than a commercial solar installer. We offer full end-to-end solar solutions and complete project management from start to finish. Our services include free site analysis, engineering, and design services, financing, rebate application, installation, permitting, inspections, monitoring, and ongoing service and maintenance.
We offer home solar power to homeowners and businesses in Denver, Aurora, Littleton, Centennial, Thornton, Parker, Arvada, Broomfield, Westminster, Lakewood, Fort Collins, and surrounding areas.
OTHER LOCATIONS:
Austin | San Antonio | Houston | DFW | Denver | Colorado Springs | Tampa | Orlando | Virginia | Raleigh-Durham | Charlotte
Offer valid to customers who, from July 1, 2023 to September 30, 2023, enter into a contract with Freedom Solar LLC ("Freedom Solar") to purchase a new SunPower Equinox system with a minimum of eight solar panels. Following the customer's payment in full of the contract price, Freedom Solar will pay eligible customers, via the Freedom Solar Power app, a rebate equal to up to 4 months of their loan payment (dependent on contract date)*, after approximately 2 months of deferred loan payments.* To access the rebate, customers must register in the Freedom Solar Power app no later than 6 months following the system installation date and may redeem the rebate through the Freedom Solar Power app via an electronic transfer to their bank account or a Virtual Prepaid Visa Card.
* Each customer's rebate eligibility is based on the date a contract is entered into: July, 4 months of loan payments; August, 3 months of loan payments; September, 2 months of loan payments; and October, 1 month of loan payments.