Powered by the Sun
Fueled by Purpose
Freedom Solar is a full-service solar company installing solar panels and backup power systems for homeowners and businesses since 2007. Our mission is to provide complete residential and commercial solar power solutions with quality craftsmanship, attention to detail, and excellent customer service that inspires you to recommend us to others.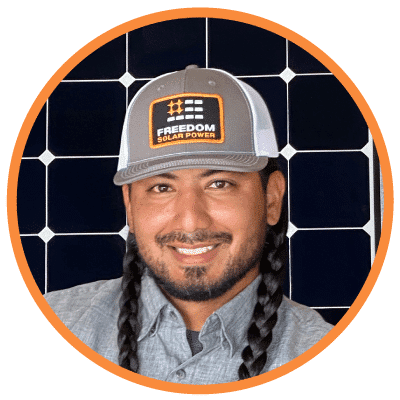 Hey! I'm Manny. I'll get you a custom solar estimate in seconds!
GET YOUR FREE & INSTANT ESTIMATE FOR GOING SOLAR!
Solar Service
Our in-house service department is here for all of your residential and commercial solar energy needs.
Dedicated team of full-time, trained, certified, licensed employees
Service for any PV system regardless of installer
Diagnostics, maintenance, upgrades, and monitoring
Contact us for a proposal in advance with itemized pricing
What We Believe
Empower Everyone to get Clean, Affordable, Reliable Energy
We provide straightforward evaluations to our customers and commit to our customers through the life of the system
We put people first and take an immeasurable pride in the work that we do, going above and beyond to exceed our customers' expectations
We provide many financing and leasing options to choose from
What Our Customers Say
As a residential and commercial customer of Freedom Solar, I can confirm their strong reputation. They are thriving in Houston because of their integrity and solution-oriented approach.

Paul Hobby, Founding Partner of Genesis Park LP and CEO of Texas Monthly magazine in Houston
You and your team did a knockout install on my house. I heard you were good but it came out great. I sensed a local pride and caring going on and I really appreciate it.

Bill and Diane D.
Hands down, Freedom Solar has been the best construction installer that we have worked with. They have fantastic customer service skills and constantly demonstrate their enthusiasm for solar power.

Laura E.