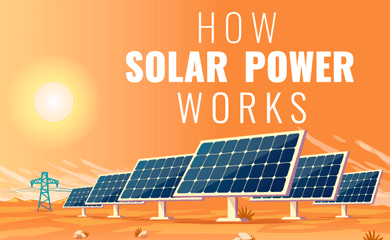 How Solar Power Works [Infographic]
July 11, 2018
Solar power has been all over the news recently. Coverage ranges from the Biden administration's import tariff to agrivoltaic farming to solar-powered cryptomining to the prevalence of electric vehicles (EVs) relying on panels to charge.
With so much going on, we thought it might be useful to go back to the basics. It's easy to get carried away with the latest technologies and shiny, new parts. But having a solid understanding of how solar power works in the first place is vital.
Check out our infographic to find answers to your questions. We explain how solar cells, panels and inverters work; the current state of U.S. solar capacity and growth; and what the future holds for an industry showing no signs of slowing down.