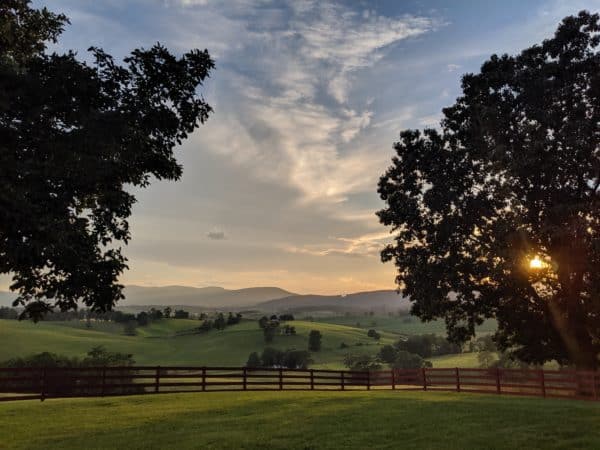 Harrisonburg's Municipal Utility to Offer Virginia's First Community Solar Project
August 31, 2022
In 2018, Harrisonburg, Virginia initiated its first community solar project, Acorn Solar, which is located on Acorn Drive — the inspiration for its namesake.
With the intent of establishing an electric grid to provide solar energy for the local community, Harrisonburg purchased 10 acres for $550,000. And after three years of planning, the project is finally coming to fruition.
Now entering the installation phase of the project, a 1.5-megawatt (MW) solar arrangement is underway to supply the city with a solar power option.
Dominion Energy owns the solar plant facility, but thanks to its collaboration with Harrisonburg Electric Commision (HEC), a new solar subscription program (Friendly City Solar Program) will become available to the local community.
Both parties' dedication to sustainable energy sources bring options to Harrisonburg residents looking to live a more eco-conscious lifestyle. Specifically with the help of solar power.
But Harrisonburg isn't the only city benefiting from solar power. Other cities across the state including Norfolk, Ainsworth, and York offer solar shares to residents upon purchase. A progressive move by Virginia, where large solar projects are only in select cities.
Let's take a further look into Harrisonburg's community solar project.
HEC and Dominion Energy Partnership
The partnership between Harrisonburg Electric Commission (HEC) and Dominion Energy was a sensible decision for a couple reasons.
Firstly, the HEC already has a 20-year power supply contract in place with Dominion that's valid until 2031. And secondly, the city of Harrisonburg wanted a feasible solution to bring cleaner energy into the community. Or at least the ability to offer renewable energy options to members of its community.
HEC customers will have the option to receive up to 25% of their electricity from solar. A drastic upgrade from not having any solar option at all. And since the Acorn Solar collaboration began four years ago, the project is finally ready for installation.
The general manager of Harrisonburg Electric Commission (HEC), Brian O'Dell, expresses his gratitude that the Acorn Solar project is making substantial progress in such a short period considering its size. The 1.5 MW system is expected to generate three million Kilowatt-hours (kWh) of energy.
Harrisonburg's Solar Energy Program
Once the installation is complete, Friendly City Solar — a nod to Shenandoah Valley's nickname — will be available for purchase through subscription by 18,000 local residents.
"In our community and the Shenandoah Valley, there seems to be a healthy appetite for renewable energy," O'Dell says. "We felt there was a strong demand for community solar because not everyone can put solar on a rooftop."
For those interested in contributing to the new solar energy program, the additional cost is mere pennies per kWh.
Projected monthly estimates for a 50-kilowatt block of solar energy from Acorn Solar will cost $5.75 on average. Approximately three cents more than regular residential energy rates with HEC.
The Landscape of Community Solar Projects
An increasing number of solar projects are being implemented to improve methods of generating energy from renewable sources.
And as of the summer of 2022, there are currently thousands of customers enrolled in the SB 1393 community solar program.
The Major Solar Projects List is an informative guide on successful solar projects and milestones within the solar industry. It hosts a collection of solar project data with an interactive map showing which projects are in operation, under construction and under development.
Presently, Virginia's community solar programs are sparse but the future for solar power projects and solar programs resemble a promising future.
[Related: Our Favorite Installations of 2021]
The Benefits of Solar: Is it Worth it?
Investing in a solar panel system is a great way to gain energy independence. And while it might seem like a hefty price at first, there are plenty of solar rebates and incentives to offset your total cost.
Purchasing a system from American-made solar panel providers like solar panel company Freedom Solar can: 
Reduce the cost of your energy bills
Help you live a more eco-friendly lifestyle
Lessen the impact of your carbon footprint
However, if you want to start using solar energy to power your home but aren't ready to own your own system, there are other ways to gain access to solar power. One being through a subscription with the Friendly City Solar program once it's launched.
[Related: Guide to Solar Panels]
Contact Freedom Solar for SunPower Solar Panels
Solar power installers Freedom Solar can install SunPower solar panels on a variety of roof surfaces such as shingles, metal, tile and flat roofs. We offer a pre-construction consultation and will collaborate with your contractor. Also, no matter who installed your pv system, or what model it is. Freedom Solar can help you with any solar repair request you might have, we can maintain, repair and upgrade any solar system for maximum energy production and efficiency
Our installation services include a 25-year lifetime solar panel warranty for performance, product, and workmanship, too. Join the clean energy community with top-quality solar panels and start harnessing the power of the sun today.
Call us at (800) 504-2337 or begin your free consultation today. One of our solar specialists will be in touch with you as soon as possible.

Featured image via Unsplash