CURRENT OFFERS & SPECIALS
TAKE A BREAK FROM YOUR BILLS
We'll cover 3 months of your electricity bills when you sign up for solar today.
THANK YOU FOR YOUR SERVICE
We are honored to give an additional $500 off your solar project to any active military or veteran personnel.
FEDERAL SOLAR TAX CREDIT
The Federal Solar Tax Credit of 30% has been extended for the next decade!
CALL 800-504-2337 (SELECT OPTION 1) TO LEARN MORE ABOUT THESE OFFERS OR FILL OUT THE FORM BELOW.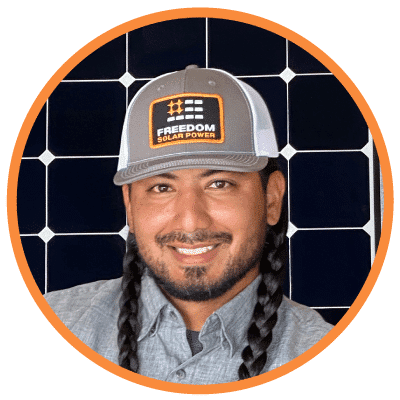 Hey! I'm Manny. I'll get you a custom solar estimate in seconds!
Get Your Free & Instant Estimate for Going Solar!
COST OF SOLAR
One of the most important questions from people looking to acquire solar panel systems is how much do they cost?
Solar panel cost and installation vary based on their make and model. Labor costs also vary depending on the style of your roof, conduit attic runs, backup power, and the location of your residence or business.
Want to know more?
Begin a FREE Consultation.
Send us your info.
We'll contact you to schedule an appointment.
An energy consultant will meet with you at your home or place of business or virtually.
You will get a custom proposal with system size, design, costs, financing, and savings.
We respect your privacy. Your info will only be used to contact you and to qualify your roof for solar.
By clicking "Contact Me" you authorize Freedom Solar to call you and send you pre-recorded messages and text messages at the number you entered above, using an autodialer, with offers about their products or services, even if your phone number is a mobile phone or on any national or state "Do Not Call" list. Message and data rates may apply. Your consent here is not based on a condition of purchase.
*Terms and Conditions: Offer valid to customers who, during January 1st through June 30th 2023, purchase a new SunPower Equinox system with a minimum system size of 2.8 kilowatts (kW DC). Freedom Solar LLC will pay eligible customers, via the Freedom Solar Power app, a post-installation rebate equal to 3 months of their electricity bills, based on the average monthly electric cost provided by the customer and modeled in the solar installation proposal prepared for the customer. To access the rebate, customers must register in the Freedom Solar Power app no later than 6 months following the system installation date and may redeem the rebate through the Freedom Solar Power app via an electronic transfer to their bank account or a Virtual Prepaid Visa Card. Offer expires at 11:59pm on June 30, 2023. Freedom Solar LLC is not a certified public accountant, licensed financial or tax advisor, or licensed attorney, and the tax-related information provided is not intended as legal, financial, or tax advice. Please consult your accountant, financial or tax advisor, or licensed attorney with respect to the availability of solar investment tax credits and any other tax matters.