Current Offers
We'll pay your electricity bills while you go solar
Plus, with $0 down financing options, going solar is more accessible than ever.
Special for Veterans & Military
We are honored to give an additional $500 off your solar project to any active military or veteran personnel.
Federal Solar Tax Credit
The federal government offers a 30% federal tax credit to qualifying individuals to help offset and subsidize the purchase and installation costs of switching to solar.
CALL 800-504-2337 (SELECT OPTION 1) TO LEARN MORE ABOUT THESE OFFERS OR FILL OUT THE FORM BELOW.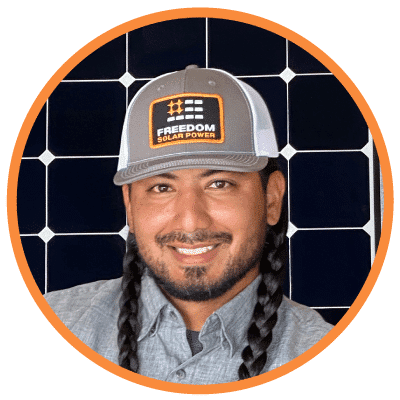 Hey! I'm Manny. I'll get you a custom solar estimate in seconds!
Get Your Free & Instant Estimate for Going Solar!
COST OF SOLAR
One of the most important questions from people looking to acquire solar panel systems is how much do they cost?
Solar panel cost and installation vary based on their make and model. Labor costs also vary depending on the style of your roof, conduit attic runs, backup power, and the location of your residence or business.
Want to know more?
Begin a FREE Consultation.
Send us your info.
We'll contact you to schedule an appointment.
An energy consultant will meet with you at your home, place of business or virtually.
You will get a custom proposal with system size, design, costs, financing, and savings.
We respect your privacy. Your info will only be used to contact you and to qualify your roof for solar.
By clicking "Contact Me" you authorize Freedom Solar to call you and send you pre-recorded messages and text messages at the number you entered above, using an autodialer, with offers about their products or services, even if your phone number is a mobile phone or on any national or state "Do Not Call" list. Message and data rates may apply. Your consent here is not based on a condition of purchase.