CURRENT OFFERS & SPECIALS
Spread the joy of solar and savings this holiday season! Get up to $1,000 to keep or share with referrals you submit, this month only!*
THANK YOU FOR YOUR SERVICE
We are honored to give an additional $500 off your solar project to any active military or veteran personnel.
FEDERAL SOLAR TAX CREDIT
The Federal Solar Tax Credit has been extended until 2022!
CALL 844-414-1594 TO LEARN MORE ABOUT THESE OFFERS OR FILL OUT THE FORM BELOW.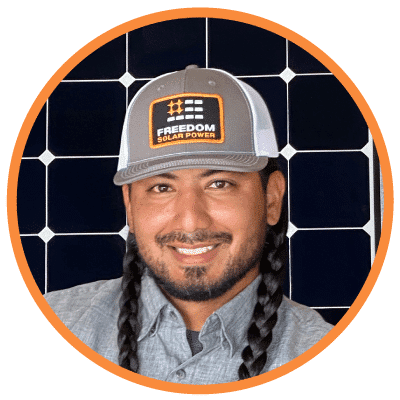 Hey! I'm Manny. I'll get you a custom solar estimate in seconds!
GET YOUR FREE & INSTANT ESTIMATE FOR GOING SOLAR!
STATE REBATES & INCENTIVES
Click on your state below to see the current rebates and incentives.
COST OF SOLAR
One of the most important questions from people looking to acquire solar panel systems is how much do they cost?
Solar panel cost and installation vary based on their make and model. Labor costs also vary depending on the style of your roof, conduit attic runs, backup power, and the location of your residence or business.
* Terms and Conditions: Offer valid to anyone who submits a residential referral via the Advocator app ("App") using company code 2180 from November 1, 2021 to November 30, 2021. The referrer ("Advocate") must select the appropriate product in the App. Selecting the Give Thanks, Get Thanks product will reward the Advocate and their referral ("Referral") $500 each when the Referral goes solar with Freedom Solar. Selecting the Thank You – Times Two! Double Bonus product will result in a $1,000 payment to the Advocate when their Referral goes solar with Freedom Solar. Payments to the Advocate will be made within 21 business days of the Referral's installation. Payments to the Referral under the Give Thanks Get Thanks promotion will be made via the App within 21 business days after their installation date pending account registration. Advocates and Referrals may redeem the offer through the App via an electronic transfer to their bank account or a Virtual Prepaid Visa Card.