Solar Panel Installations in Norfolk-Virginia Beach, VA
Freedom Solar Power
500 Woodlake Dr, Ste 109
Chesapeake, VA 23320
Call for a FREE Consultation!
(757) 250-7626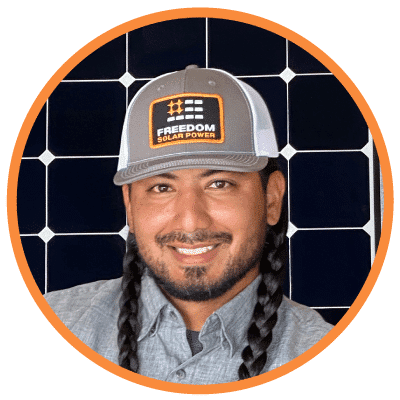 Hey! I'm Manny. I'll get you a custom solar estimate in seconds!
Get Your Free & Instant Estimate for Going Solar!
Check out the Great Reviews for Freedom Solar Norfolk
Pay $0 until 2024
When you go solar with us this month, you won't have to pay anything until next year.
Find a plan today that best fits your lifestyle and financial goals. There's never been a better time to go solar!
Want to know more?
Begin a FREE Consultation.
Send us your info.
We'll contact you to schedule an appointment.
An energy consultant will meet with you at your home, place of business or virtually.
You will get a custom proposal with system size, design, costs, financing, and savings.
We respect your privacy. Your info will only be used to contact you and to qualify your roof for solar.
By clicking "Contact Me" you authorize Freedom Solar to call you and send you pre-recorded messages and text messages at the number you entered above, using an autodialer, with offers about their products or services, even if your phone number is a mobile phone or on any national or state "Do Not Call" list. Message and data rates may apply. Your consent here is not based on a condition of purchase.
Norfolk FAQs
Own Solar and Save
Stop renting electricity. Make your own clean power and get short-term and long-term financial benefits while helping protect the environment. Local, state, and federal incentives will make your system even more affordable.
World's Best Solar
SunPower® offers the world's most advanced, efficient, and sustainable solar technology, designed in the USA and backed by the industry's best 25-year product, performance, and service warranty.
Leading Solar Installer
Freedom Solar is trusted by thousands of customers for our craftsmanship and personal attention to detail. We are the only SunPower master dealer in Southeast Virginia.
What Our Customers Are Saying
Super happy with our solar panels and the team that helped us make it happen!

Everyone at Freedom Solar has been amazing. They are true professionals who enjoy the work that they do. By far one of the best purchases we've made.

Elena C.
Very friendly and professional team of installers and customer support personnel.

Our system was installed on time and at the price that was quoted. I am very happy I chose Freedom Solar.

Randy Y.
Working with Freedom solar was an excellent experience. They made the process easy and enjoyable from creating the design, to explaining financing, to the installation. I've already saved hundreds of dollars on my electric bill. I highly recommend Sunpower by Freedom Solar.

Deborah F.
Our Commercial Solar Clients Virginia Solar Incentives
As a premium solar installer for the Hampton Roads area, we provide you with the best solar and backup power solutions for homeowners who are in the Dominion Energy, Dominion Virginia Power, Southside Electric Cooperative, Rappahannock Electric Cooperative, Community Electric Cooperative, and Xcel Energy service areas.
Our local team provides commercial and residential solar panels and services to Coastal Plain customers. We will also help you and take advantage of all federal, state, and local incentives. This includes the 30% federal tax credit, net metering policies, and statewide exemption from property and sales & use taxes on solar panel installations.
Incentives are limited – take advantage of these policies today!
SunPower Master Dealer
SunPower Corporation selected Freedom Solar as their only SunPower® Master Dealer in Southeast Virginia, giving homeowners and businesses access to SunPower's world-record-setting technology paired with our reputation for craftsmanship and personal attention to detail. Freedom Solar is honored to have been recognized by SunPower as the 2019, 2020, and 2021 "National Top Producer of the Year" for consistently putting customers first and installing more residential solar than any other company in the central U.S.
Home Solar Energy Services We Provide In Chesapeake, Virginia
As a leading solar installer, we're ready to lead the solar revolution in the Hampton Roads. We offer installation services for both residential and commercial customers. We use SunPower premium solar technology on every installation and handle everything from your initial consultation to obtaining the required permits to HOA approval to inspection and interconnection.
Home Battery Backup Systems
Backup Power Systems We Offer:
Backup power is a system that connects to electricity sources, typically solar panels and the electric grid, to store excess power and return it to your home when you need it, generally because of a power outage during an emergency. In most cases, your backup power supply will come from a generator or a battery. Today's solar batteries are also intelligent energy management systems that can optimize your home's energy usage to take advantage of utility time-of-use plans or to ensure that your electric car is charged with solar power.
Commercial Solar Energy Services
Freedom Solar is more than a commercial solar panel installer. We offer full end-to-end solar solutions and complete project management from start to finish. Our services include free site analysis, engineering, and design services, financing, rebate application, installation, permitting, inspections, monitoring, and ongoing service and maintenance.
Offer valid to customers who, from July 1, 2023 to September 30, 2023, enter into a contract with Freedom Solar LLC ("Freedom Solar") to purchase a new SunPower Equinox system with a minimum of eight solar panels. Following the customer's payment in full of the contract price, Freedom Solar will pay eligible customers, via the Freedom Solar Power app, a rebate equal to up to 4 months of their loan payment (dependent on contract date)*, after approximately 2 months of deferred loan payments.* To access the rebate, customers must register in the Freedom Solar Power app no later than 6 months following the system installation date and may redeem the rebate through the Freedom Solar Power app via an electronic transfer to their bank account or a Virtual Prepaid Visa Card.
* Each customer's rebate eligibility is based on the date a contract is entered into: July, 4 months of loan payments; August, 3 months of loan payments; September, 2 months of loan payments; and October, 1 month of loan payments.