Keating Toyota Installs Solar Power Array and Goes Green, in More Ways Than One
July 6, 2021
Originally published on One Toyota.
Ben Keating says his investment in solar power will quickly pay for itself, then generate a steady return longer term in the savings on the electricity he doesn't have to buy off the grid.
Ben Keating, by his own admission, is no environmentalist. He is a businessman. Pure and simple.
So his decision to install a massive solar-powered electricity generating system on the roof of his newest auto dealership — Keating Toyota in Manvel, Texas — had everything to do with increasing his return on investment and nothing to do with reducing his carbon footprint.
Even if it's doing both of those things simultaneously.
"This is a wise investment," Keating says. "I expect it to pay for itself within seven years and then be profitable and generating a return beyond that for the next 23 years. It's basically a no-brainer."
Keating knows a thing or two about the car business. He owns 20 dealerships, all based in Texas. Three of them sell Toyotas. But Keating Toyota is, as he puts it, the "Taj Mahal" of the group. Four years in the making, the 84,000-square-foot facility surrounded by 18 acres of car lots opened last September.
[Related: New Solar Incentives for Businesses]
As you can imagine, it needs a lot of electricity to keep it humming. The 315-kilowatt solar system, fed by 799 panels that cover nearly 16,000 square feet atop the main facility and stand-alone car wash, accounts for about 30% of the dealership's daily power needs. To maximize efficiency, the dealership also went with LED bulbs throughout. And it incorporated an energy management system that can match electricity use to need, such as by automatically dimming the lights on the lot when the store is closed.
Separately, Keating invested in a natural gas-powered generator to serve as a back-up should the public grid fail — as it did during the big freeze in Texas in February.
"We sell around 450 vehicles a month," says Keating. "If the power goes out for one day, we'd miss out on 20 car deals. That will pay for the generator over and over again. Another wise business move."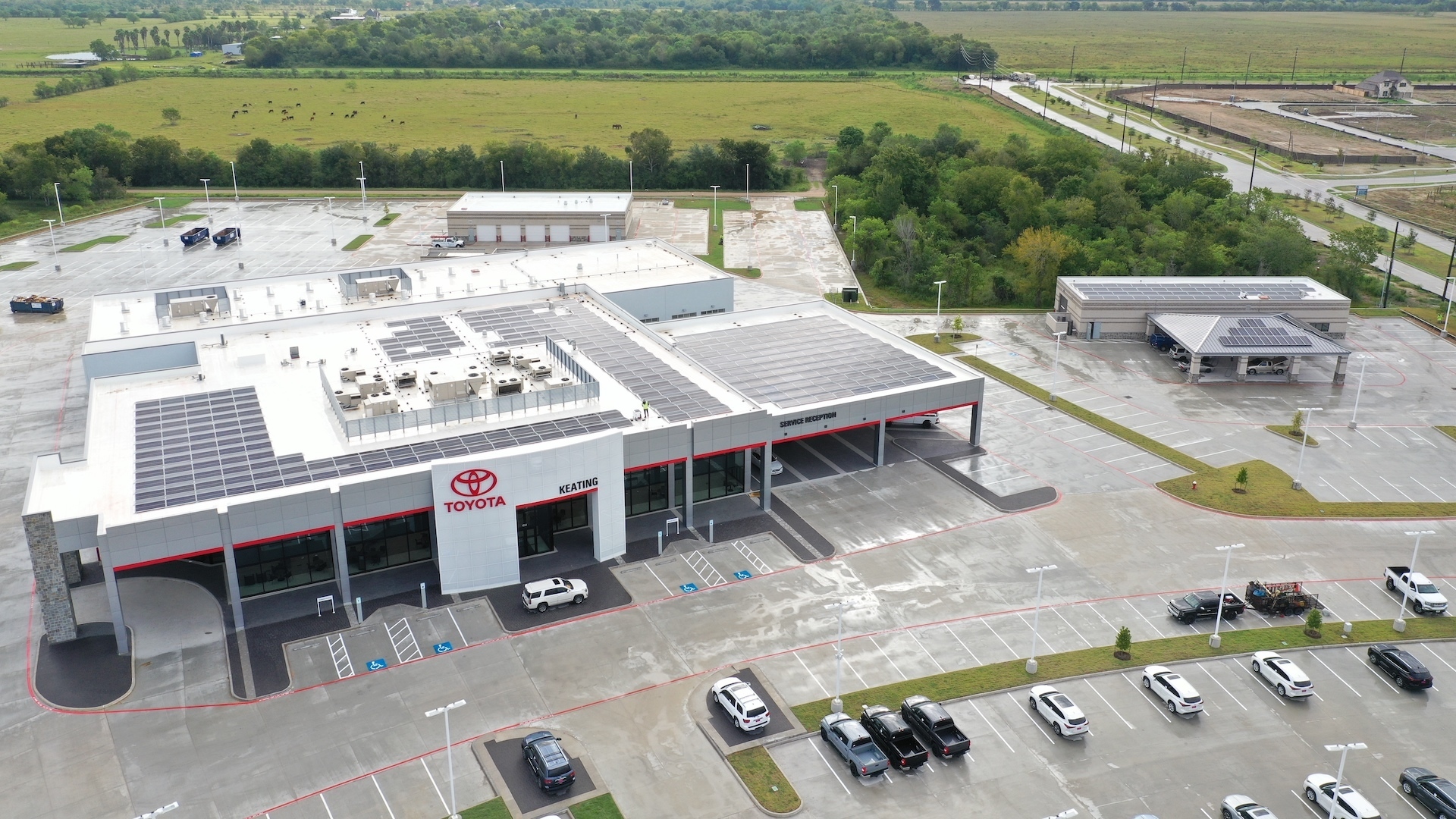 Up on the Roof — The 799 solar panels arrayed on Keating Toyota's roof generate 30% of the dealership's daily electricity needs.
Crunching the Numbers
Initially, the return on the investment in such a system is driven primarily by tax planning. Between a 26% federal tax credit for every dollar spent on renewable energy plus the option to depreciate 100% of the cost in the first year, a business can recoup roughly half of its start-up cost pretty much out of the gate. And then there's the savings on the electricity you don't have to buy off the grid. That's where the long-term profit comes in, year after year after year.
"Solar panels are a bit like having a tenant that sits on your roof and pays you rent every month," says Kyle Frazier, sales director of Freedom Solar — the company that designed and installed Keating Toyota's system. "They are the perfect tenant. They never complain and they don't cause problems with the neighbors. And as the cost of electricity goes up, their value also increases. It's like having a built-in rent escalator."
The Dealer Franchise Model
Still, all of those numbers only add up as long as Keating Toyota remains a thriving dealership over the long haul. That's why Toyota's commitment to supporting the franchise dealer model is so pivotal.
"I've invested more than $20 million in this dealership, including $500,000 just in solar panels," says Keating. "That doesn't happen if I don't think Toyota has faith in us and this way of doing business. No dealer would spend that kind of money if they didn't believe they'd still be an essential part of the business model 20 to 30 years down the road.
[Related: Auto Dealership Going Green]
"I know there are some other OEMs, including some newcomers, who would like to sell directly to customers and turn our stores into delivery and service centers. That's not Toyota. They believe in strong partnerships with their dealers so that, together, we can work to build the brand."
And that matters, big time. All told, the Keating Auto Group employs more than 1,600 people and, annually, sells some 44,000 vehicles and generates approximately $1.6 billion in revenue — not to mention the sales taxes that can help fund local communities.
"I guess you could say this investment in solar power is our way of letting Toyota know that we believe in them and we appreciate their support," Keating says. "One doesn't happen without the other."
By Dan Miller