How To Talk To Friends About Solar
October 10, 2023
Are you thinking about suggesting solar to your friends? When we talk about the benefits of solar… if you know, you know! You also probably remember how it felt when you were first exploring the idea of solar. Pretty overwhelming, right? Harnessing the power of the sun can help you save money on your electricity bills. But it can also make you feel super powerful and contribute to a more sustainable future.
A few principles to consider when sharing a new technology like solar power with your inner circle:
Show respect to their opinions
Come from a place of curiosity, and be a good listener
Consider and convey the benefits that person will receive from going solar
Offer to help them on their journey!
Types of Friends Who Would Benefit from Solar
Don't be shy about stating an opinion: Talk about your experience researching and then going solar, and offer to be there for them (or point them our way) if they have more questions.
While not all friends might be a perfect fit for solar energy, let's help you identify the best candidates by considering these factors:
Homeowners
Solar panel installations are most cost-effective for homeowners, as they can reap the long-term financial benefits.
Friends with roofs that receive ample sunlight throughout the day are ideal candidates for solar. Excessive shading from trees or buildings can reduce solar panel efficiency.
People With High Electricity Bills
Friends who consistently pay high electricity bills are more likely to see significant savings from solar energy.
Environmental Enthusiasts
Individuals looking to reduce their environmental impact and live a more sustainable lifestyle will appreciate the benefits of solar power.
Investor Types
New homeowners or those planning major home renovations can incorporate solar panels into their plans, enhancing the value and energy efficiency of their homes.
Solar Talking Points
So, how do we talk about solar specifically? You don't have to be able to explain the difference between a kilowatt and a kilowatt-hour to talk about solar. Just share what you know!
Here are our top conversation starters, based on what our customers have shared with us:
1. Money talks
Talk about your electric bill—how much you paid before and after solar—and what your solar loan payments are like. Friends who consistently pay high electricity bills are more likely to see significant savings from solar energy.
Solar is a smart investment, and if you pay an electricity bill, chances are you can afford solar.
Solar panels can significantly reduce your electricity bills, offering long-term savings.
Many governments and utilities offer incentives and rebates for installing solar panels, making the initial investment more affordable.
Solar panel systems can increase the resale value of your home by at least 4% instantly, offering a great return on investment.
2. Highlight The Feel-Good Element of Environmental Impact
Solar is one way you can tangibly reduce your household carbon emissions. It's a total win win, making your family feel good while also have having true positive impact.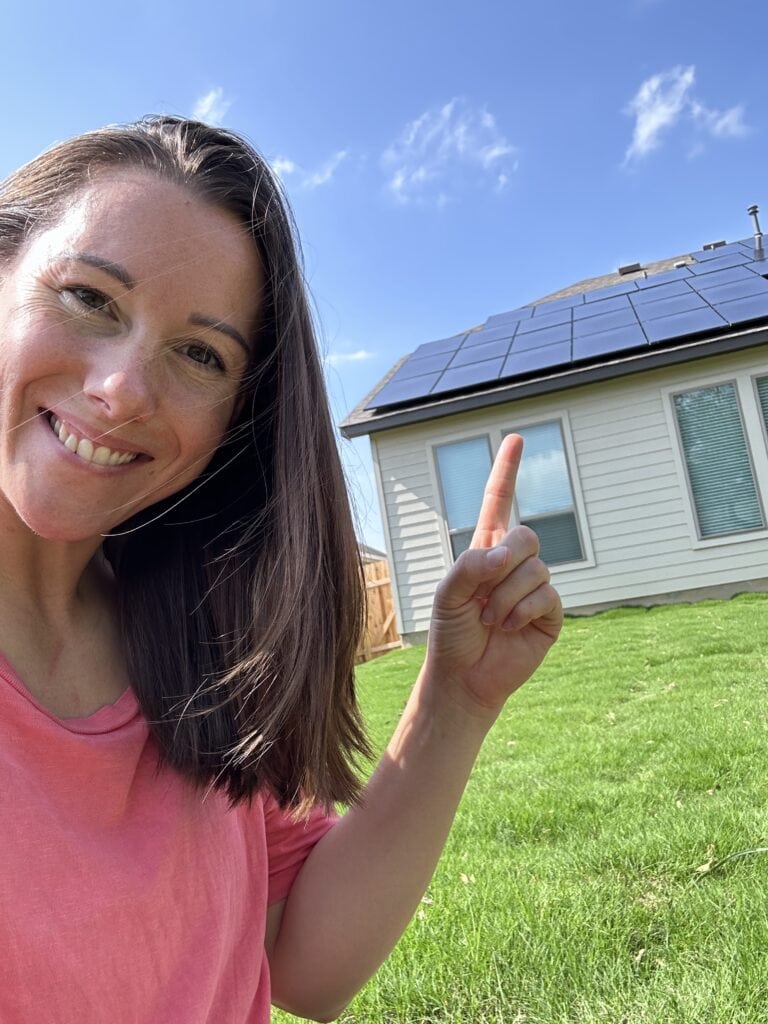 Solar energy is clean and renewable, reducing your carbon footprint and contributing to a more sustainable planet.
Using solar power decreases our reliance on fossil fuels, helping combat climate change.
3. Solar makes you more powerful
Energy Independence is a big reason people go solar.
Solar panels give you control over your energy production, reducing your vulnerability to electricity price fluctuations from your local utility.
During power outages, solar systems with battery storage can provide backup power, enhancing your energy resilience.
Solar is how you will power your life in the future, and the technology is ready today.
Show off your monitoring application that displays real-time production (which is also helping with grid stability during times of peak demand)!
Don't forget to make it personal & offer to help
If the dollars and cents or the hard facts are a little too personal, focus on the things that stand out as highlights to you, and what the experience of going solar was like. Personal anecdotes can be compelling.
If you had a good experience with a particular solar installation company, recommend them to your friends. Word-of-mouth referrals can be invaluable.
Offer to assist your friends in the research and decision-making process. Help them get quotes and understand the financing options available.
More Resources
If you like to be prepared, bookmark our Frequently Asked Questions page to be able to respond to different solar questions.
Or just refer folks over to us — we are solar experts and love chatting with people about solar, whether they are just starting their journey or they are well versed and want to dig into technical questions. Contact us.
In conclusion, suggesting solar to your friends is not just a wise financial move; it's an eco-friendly one too. Customize your approach to their interests, and by sharing your experiences and knowledge, you can help them make a decision that's good for their wallets and the environment. Let's harness the power of the sun together and build a brighter, more sustainable future, one conversation at a time. 🌞💡