8 Green Energy Leaders in Texas
February 28, 2019
You don't have to know much about Texas to know that we have a lot of state pride. From our tacos to our state parks to our economic outlook, there are lots of reasons to love the Lone Star State.
Now our state's residents have yet another reason to brag: the burgeoning Texas green energy movement. All over the state, businesses are taking the lead, making improvements to reduce their energy use, install alternative fuel sources, and help their customers make greener choices too. Today, we recognize eight innovative companies that are changing the face of Texas green energy.
Whole Foods
Austin-based Whole Foods sets the example for large-scale commercial green energy in food retail. Not only has the company built or remodeled dozens of LEED-certified stores, it also uses solar panels to power 60 of its locations throughout the country — some of which were installed right here in Texas by Freedom Solar.
Whole Foods was a founding partner of the EPA's GreenChill program, with the goal of reducing refrigerant emissions by using alternative coolants. And it has launched internal food waste reduction and composting programs — all while providing 100 percent post-consumer recycled-content bags for customers.
We're proud of all the work this Freedom Solar client has done to help the environment. It's no wonder the company is listed as one of the City of Austin's Platinum Level Green Business Leaders!
Learn more about Whole Foods' green initiatives.
Goodwill of Central Texas
With its extensive network of donation centers, Goodwill does more to keep materials out of landfills than almost any other organization in the country. However, the Central Texas division of Goodwill deserves a special shoutout for its green energy use. In 2014, Goodwill partnered with Meridian Solar to install a combined 2,132 solar panels on its Goodwill Resource Center and Goodwill Community Center in Austin. That's just one of the great things this organization does for local communities.
Learn more about Goodwill Central Texas's solar installation.
Apple
Austin was abuzz at the end of last year when the tech giant Apple announced it would be building a new campus there. Green energy advocates expressed their enthusiasm too; Apple is known as an especially green company. In fact, in 2018, it was able to achieve 100 percent renewable energy in its offices, retail centers, and other facilities. Apple's newest campus will follow that path, using 100 percent clean energy and adding to the company's 626 megawatts of generation capacity throughout its renewable energy projects.
Check out all of Apple's environmental work on its website.
Exxon Mobil
It may seem a little bit strange to include an oil company on a list of green energy leaders, but the Exxon Mobil headquarters in Irving, Texas, is making good on its promises to be better to the Earth. Recently, the company announced that it will be purchasing 500 megawatts of wind and solar power to run its facilities, the largest renewable energy contract ever for the oil industry. That energy will come in part from the Permian Basin solar farm, slated to be completed in 2021. Not bad for an oil company!
Read about Exxon Mobil's Environmental Initiatives here.
Samsung Electronics and Semiconductors
A lot of energy goes into microchip production; in fact, semiconductors have an environmental footprint of 1.4 kWh of energy per square centimeter of silicon wafer. So it only makes sense that microchip manufacturers would want to cut back on energy consumption. Samsung Electronics and Semiconductors in Austin took that idea and ran with it, earning it the number-six spot on the EPA's Top Tech & Telecom companies. In 2018, Samsung's Austin facilities became 100 percent renewable, purchasing all their power from Texas green energy providers. The company also has a wastewater reuse program and teams focused on identifying less hazardous alternatives to dangerous substances used in semiconductor manufacturing.
Discover more about Samsung's sustainability work on its website.
Save the World Brewery
Philanthropic and environmentally minded beer drinkers alike rejoiced when they learned about the opening of Save the World Brewery, a Marble Falls, Texas, beer brewer that donates 100 percent of its net profits to people in need. But the brewery's also doing great things for the environment: with the help of a 48.6 kilowatt solar array installed by Freedom Solar, the brewery is able to offset 82 percent of its energy consumption. We're so honored to have been able to help with this organization's noble cause.
Learn more about the company's mission — and its beer — by visiting its website.
Rackspace
San Antonio's Rackspace is one of the foremost cloud computing services providers in the nation — and its attitude toward the environment is no less innovative. In 2019, the EPA ranked Rackspace 17th on its list of Top Tech & Telecom companies due to its conscientious efforts to obtain energy from renewable sources. In 2015, for instance, Rackspace purchased 114 million kWh of green energy, some of it from Texas solar energy providers — meaning that about 36 percent of the energy used in its US facilities came from renewable resources.
You can learn all about Rackspace's green efforts on the company's blog.
SolarSno Shaved Ice
Austin-based food truck SolarSno proves that you don't need to be a massive corporation or a long-time institution to go green. SolarSno's shaved ice food trucks are completely off-grid, using 100 percent solar to power operations. This allows them to go wherever customers may be — regardless of whether there's an electrical hookup or not. That makes SolarSno a true innovator in the food industry, and it earned owner Tom Myers a spot as a City of Austin Net-Zero Hero. We were so grateful to have Mr. Myers as a guest recently on our Texas Energy Lab radio show.
Learn more about SolarSno by visiting the company's profile on Facebook or Instagram.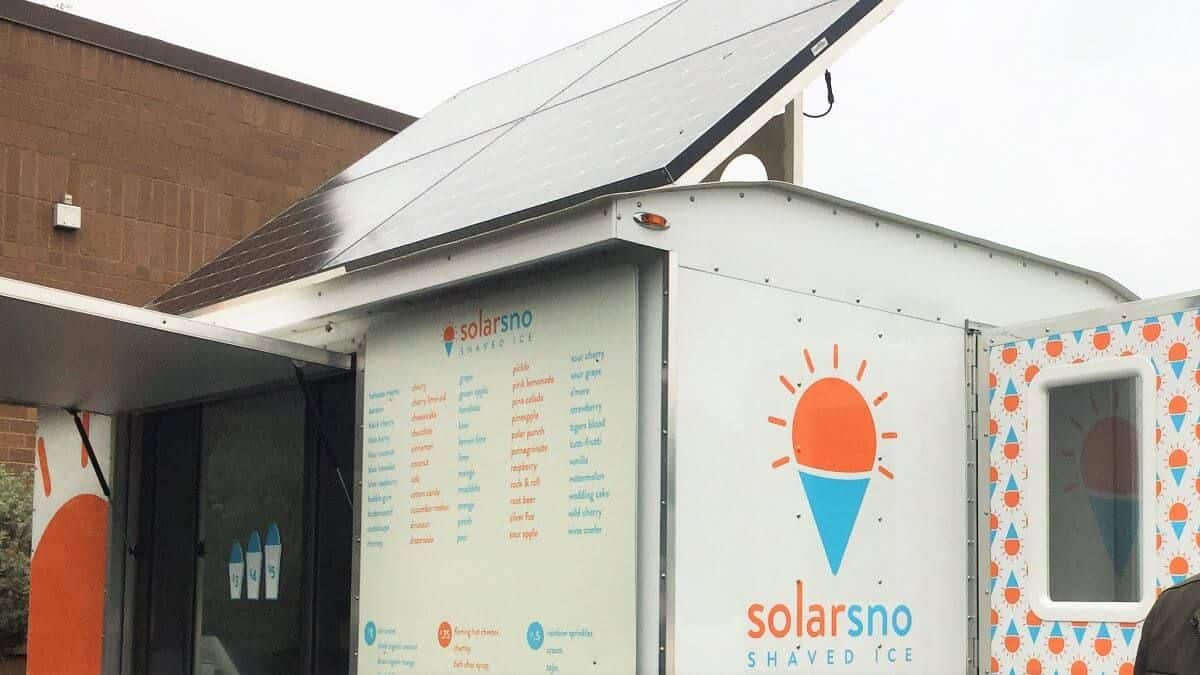 Want to follow in the footsteps of these Texas titans? Contact Freedom Solartoday to learn how you can take your business or home to the next level by harnessing solar energy. With plenty of energy savings on the line, going solar is just good business.